Low pressure mercury lamps (LP Hg lamp)
---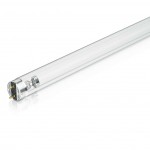 Low pressure mercury lamps (LP Hg lamp) provide highly efficient source of ultraviolet energy, particularly short wavelength UV light (254nm and 185nm). These type of lamps have an operating life of up to 16,000 hours.
CLS-UV supply a wide range of low pressure UV lamps, also known as fluorescent or germicidal lamps.
Standard applications for these lamps are water, air and surface disinfection as well as odour control in air.